The Luminaria and the Lumini as a Space to Reconnect
The current context is changing as we write. Governments around the world are daily resetting parameters for arts activities in the public space.
Architects of Air welcomes contributing to projects that bring the arts back into local communities. AoA is very flexible and reactive, and we are happy to enter dialogues with presenters to explore the possibilities at small or full scale.
The luminaria and the lumini serve as a means to reconnect the arts and the local communities.
The luminaria, with their attraction to a large volume of visitors, face obstacles at present but our smaller scale luminis have less barriers to operation.
To minimise risks from Covid-19 there are ways to adjust visitor management to meet the current standards and to ensure staff and visitors have a safe, enjoyable experience.
A lumini provides a unique space for small, socially-distanced, engagement. With their short set-up time lumini could easily tour to different communities within a city. Each community could curate their own programme of activations inside the Lumini eg a music performance, yoga or meditation session, storytelling, creative arts workshops.
Lets make the luminaria and the lumini a Space to Reconnect for the audience, the presenters and the arts.

AoA Tents make Exciting Shelters
Bringing a sense of spectacle, AoA's unique multi-purpose tents range from open-sided to fully closed shelters that can operate in diverse environments as a simple canopy or as a sensory covered environment for a range of activities.
They can be used as a space for varied activities including; educational workshops, well-being sessions, home schooling, as a performance area, as a meeting-place, as an info or ticket booth, a product launch, as drink and food areas, as sensory therapy spaces, as a pop-up shelter for the homeless, in care homes, schools.
They are easily set up in a public space, at a festival, in a corporate context, as a fair stand, in health, education and social venues or for private parties. They are quick to erect and safely anchor to the ground. They are easy to transport so could be sited in varied locations during the course of an event. They are airtight with no fan noise.
"The Architects of Air tents looked beautiful and worked extremely well for both our info / gathering place and for the socially-distanced storytelling of Sita Brand. I can imagine it working very well in the context of other outdoor festivals and events, particularly as the airflow through the structures made Covid-19 restrictions easy to accommodate. Thank you all so much for the thought, energy and commitment you put into making it work for us". Stella Hall, director of Thrift Festival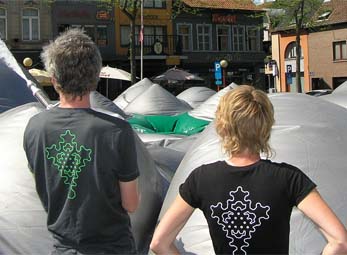 AoA is seeking support
AoA is seeking support from presenters in the form of future bookings, ideas and guidance. We are very keen to exchange ideas on how we can make our offering accessible in the current and future contexts.
We are Ready to Engage when You are!