A luminarium gives access to a very broad audience, embracing all ages, all abilities, all cultures and communities.
A luminarium offers a very democratic space. In a public location it accommodates harmoniously the diversity of the local population - in Sao Paulo, Brazil we had the extreme of street kids mixing with bankers out on their lunch break. A luminarium creates its own community where integration is integral to the luminarium experience.
Architects of Air originally grew out of a theatre project for people with learning disabilities and presenters are particularly encouraged to promote that the luminarium is accessible to people with disabilities and wheelchair-users - people who might not otherwise attend a public art event because of a perception that they may not be able to participate.
Praise for the luminarium's inclusivity:
"It was one of the greatest examples of the arts reaching the everyday citizen I have ever seen." Emily L. Spruill, Director of Cultural Affairs, Virginia Beach, USA
"I was surprised by the number of and variety of social and cultural groups of general public who visited the luminarium. It was a great "leveller" of an experience." Jon Hogan, Gloucester City Council, UK
"A great way to engage a diverse range of local communities as well as attracting the passing tourist trade." Maria Bota, Director, Salisbury Festival. UK
"Thank you so much for ensuring wheelchair access, I simply cannot convey how magical it was for us." Sue and Laurie, visitors to Bluedot Festival, UK
"I loved it. I was so happy that someone finally made something that someone like myself who was born physically disabled can enjoy too. It's so beautiful and I wish that I could see it again." Anna Mae Bancroft, visitor Lansing, USA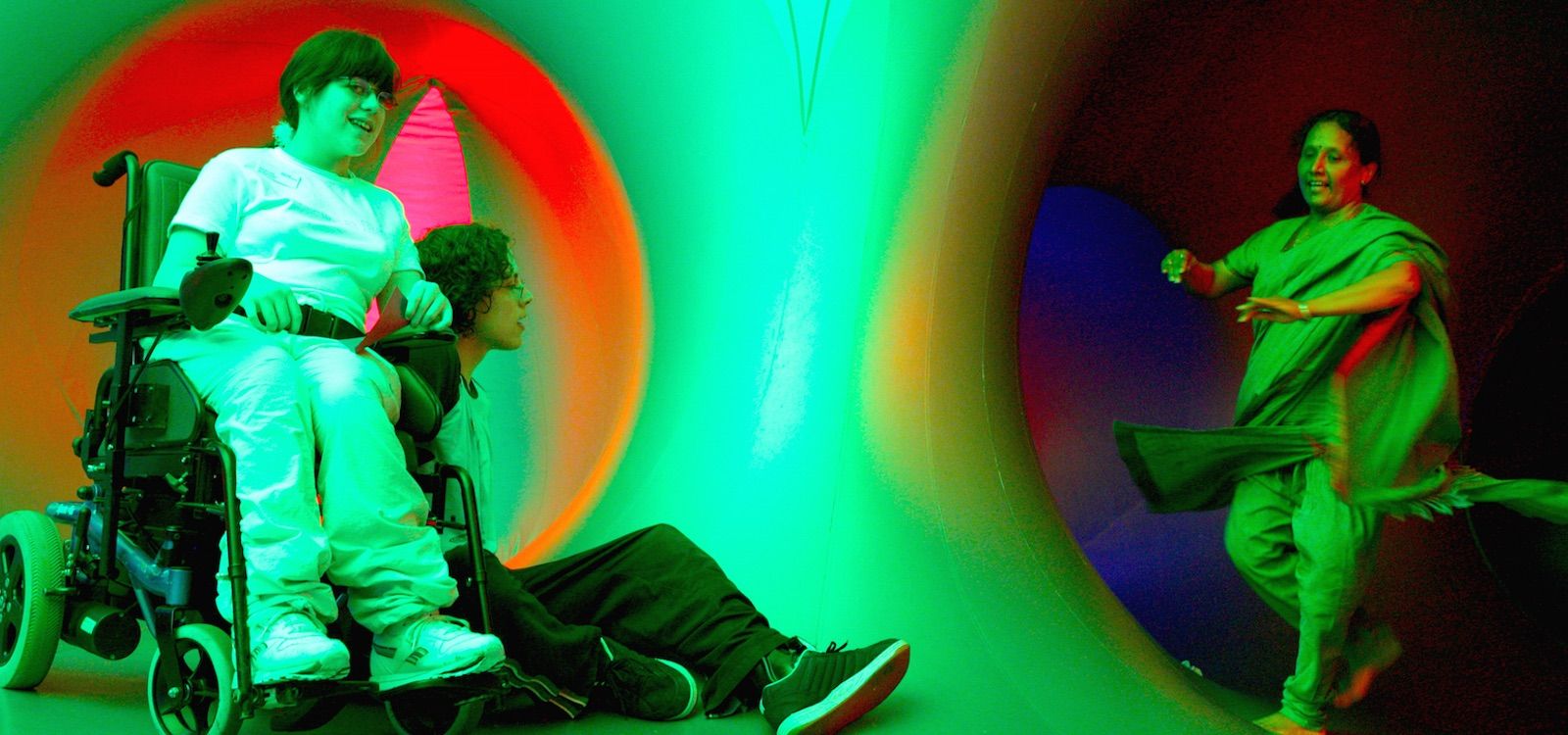 "For handicapped people and their parents or friends a luminarium is an ideal place to be. Both can do the same inside: enjoying, being amazed and relaxing." Henri van Wezel, Prinsensichting Special Needs Centre, Netherlands
"Parents very emotional, seeing their children relax for the first time in one case in almost 10 years. Some parents brought to tears seeing the effect on their offspring. All reactions were extremely positive. One extremely violent client was seen to be smiling for the first time ever, while visiting Amozozo." Hans Gerbensma, S'Heerenloo, Julianadorp, Netherlands
"Our 16-year-old special needs son does not tolerate crowds and noise. He needed a little coaxing to enter the exhibit but once inside it was amazing to see him so mesmerized by the lights and shapes and he squealed with laughter several times. It is rare that we get to enjoy activities with all three of our children but this was the exception. Thank you for making this family occasion for us all to enjoy." Laura Hollenbec, Austin, USA
"It was so easy to lose track of time and all other cares inside the structure and just observe the way in which the students - all of whom present with severe and profound learning difficulties - were engaging with this unique environment. Thank you for providing such a rich and rewarding experience for us all." Jonathan Gray - teacher, Stanton Vale School, UK